12x 12 stalls for rent
The Wide-Angle Ranch is located about 10 miles from Athens, Hocking, Nelsonville, Albany. Open seven days a week, with a 60 x 120 indoor arena and a huge 90x195 outdoor arena, stalls for rent 12 x 12 or 10 x 10.
Plenty of turnout space and pastures, farrier and vet available on site if needed.
Full board is $350.00 a month includes stall cleaned, turn outs, feeding grain and hay twice a day and clean water. 12x12 stalls in indoor arena are 450.00 and 12x10 stalls are 350.00


All riding lessons are $45.00 an hour for private, $35.00 for semi private. Please be kind and give advance notice for lessons that you are not going to be able to attend, 24 hour advance notice is our policy or you may be charged. Please call 740-591-9885 if you cannot make your lesson.



---
Large indoor arena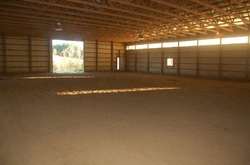 60x 120 indoor arena with plenty of outdoor pasture and turnout spots.
12x 12 stalls
90 x 195 outdoor
35 acres
Round Pen use
Jumps
Poles, Barrels, Trails, Photography

---